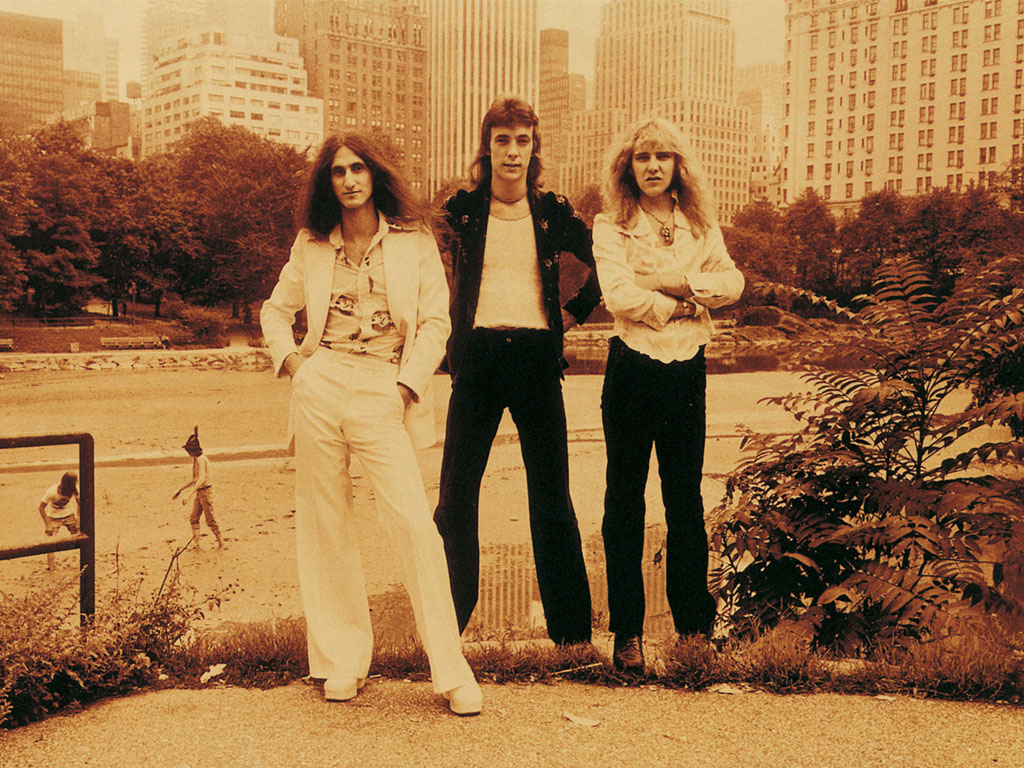 Welcome to my Rush Page!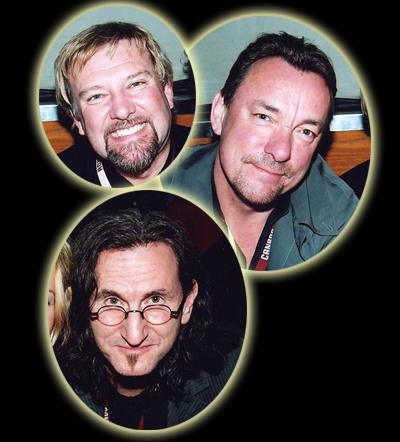 I just felt that Rush deserved it's very own page... So, here it is!

My favorite band in the universe needs it's own page, done my way... I hope you enjoy this page... I'm going to put a lot of effort into it, because I feel that Rush deserves the very best (since they've given the world THEIR very best for over 30 years now!)... Rock n roll n RUSH on!
My favorite guys, Geddy Lee, Alex Lifeson, and Neil Peart have been rockin' the world! Neil, the band's lyricist, inspires me daily. I'm a writer (in my spare time, mind you), and get most of my inspiration while listening to Rush. Their music is the perfect package of lyrics and music. Their earlier days showed a Zeppelin influence, but it was (IMO) short-lived. My favorite Rush CD? Hard to pick, honestly. There are songs on every CD that I love... Don't make me try to pick a fav song...that just isn't possible. There are so many songs that have made an impression on me, I couldn't possibly pick ONE song that was my #1 fav. But, some of them are below, and I have links to the lyrics for you. Go read the lyrics to "The Pass"...feel the song...then, go listen to it. You won't listen to Rush the same way again...
All Hail King Lerxst, Dirk, and Pratt - The Professor!
---
Quick Jump To: Rush Links ~ Rush Lyrics ~ RushCon
---
Rush has it's own official Web Page! It is too cool! The guys released their Snakes and Arrows CD on May 1st, 2007. WOW! What a great CD! Very different! Their most recent DVD release is Replay X3 - a collection of previous VHS-only concerts. The set includes: Exit: Stage Left, A Show of Hands and Grace Under Pressure. The DVD for R30 is a 2-DVD set is from a concert on the R30 tour in Frankfurt, Germany. The CD called Feedback is an awesome collection of cover songs. "The Seeker", "Summertime Blues" and "Seven and Seven Is" are worth the price of the CD alone. Very cool! This along with Rush in Rio on DVD (also on CD) are just awesome! The RiR DVD is excellent! The extras are freakin' sweet! (Had to borrow a line from Family Guy...hehehehe...) SHRIMPCOTS!

Vapor Trails is their previous studio CD, and it is fab!!! Just when I think they can't, they go ahead and re-invent themselves! My favorites are below... :) I love the 3-CD live set, Different Stages! The 'bonus' CD (mostly from AFTK) is awesome! It's also nice to see "Analog Kid" on a live CD! That is such a cool song! Go Neil! Keep an eye out here...I'll be trying to add more to this page to make it even better!

I have taken to collecting things related to Rush. My major coup before September 28, 2002 was my autographed copy of Neil's book, "The Masked Rider". Getting an autograph from Neil is almost impossible! But, he signed this especially for RushCon (see below). But, the weekend of September 27-28, 2002, our local rock station, WTUE, held a charity auction for the Leukemia & Lymphoma Society. They had several guitars and CDs autographed by certain artists, and guess who one of the guitars was signed by? Geddy and Alex! So, you can only guess what happened...I HAD to have that guitar! And, I DO! :D I wasn't going ANYWHERE that night until it was mine. Here are some pictures... Here is the guitar and my RTB bandanna, and here is a close-up of the autographs. Yes, I am a Rush fanatic. :) I also have a picture of Alex (circa 1976ish) with Terry Brown that Terry autographed. Aside from that, I have several posters, photos, buttons, bumper stickers and other stuff!

I am not allowed on eBay any more! LOL!
Speaking of Neil, he has written three other books: Roadshow : Landscape With Drums: A Concert Tour by Motorcycle, Traveling Music and Ghost Rider. To get an idea of JUST how lucky we all are to have new Rush music, read Ghost Rider. It was gut wrenching, but so well written and as a Rush fan I felt it really gave me a better insight on Neil, the PERSON. Amazing stuff... Traveling Music is awesome, too! So interesting to read about some of his favorite music! And, Roadshow, the newest book, is very fascinating! I enjoyed reading about the journey he took while touring; very insightful!
Neil's wife, Carrie Nuttall, put out a book of photographs of Neil called Rhythm & Light. Amazing photos! Just outstanding! And, as an amateur photographer, it inspires me in a big way!
Check out Atlantic Records' RUSH page...it is SO COOL! Check out the Rush Chat...pretty neat!

Neil has his own web site, also! Very impressive!
You MUST go see this one...I spend a LOT of time on this site. Power Windows, one of my fav sites! It is outstanding!
Check out this site - TONS upon TONS of awesome Rush links! - Driven Tribute Rush Links
Check out the Rush Backstage Club - order T-shirts and hats, programs and all sorts of stuff!
Do you want to listen to Rush online? Go visit Rush Radio!
The latest CD, "Snakes & Arrows" is one that I fell in love with instantly. Lyrically one of Neil's best! So many songs speak to me! My favorite on the CD is "The Way The Wind Blows". Just a great song overall! And, the first single and first song, "Far Cry" is awesome, too! It is edgier than the rest of the CD, and the lyrics are spot on! The song "Bravest Face" is probably my 2nd fave on the CD. I can relate to that one on a personal level... And, "Faithless" is outstanding! I will quietly resist...
From the CD "Vapor Trails", check out the lyrics to "One Little Victory", "Ghost Rider", "Peaceable Kingdom" and "Vapor Trail"...Neil is just amazing...
"Resist" from their "Test For Echo" CD is an excellent song! Especially when Ged & Al do the acoustic version. Another great song from TFE is "Virtuality"...just call me Net Girl...

At first listen, I didn't think "Counterparts" was such a great CD (I know! GASP!). But, I listened to it a few times and changed my mind. And "Nobody's Hero" always gets to me...always... Other good songs are "Animate", "Stick It Out", "Cold Fire" and "Cut To The Chase". "What kind of difference can one person make..."
From "Roll The Bones", here is the song "Bravado"...cool song and one of my favs! And, you just HAVE to love "Roll The Bones"! Another fav is "Dreamline"!
Here are lyrics to two of my favorite Rush songs, "The Pass" and "Chain Lightning" off the album "Presto". Also, the title song, "Presto" is a great song.
From "Hold Your Fire", here are some excellent songs! "Lock And Key", "Second Nature", "Prime Mover" and "Force Ten" - such power...
The album "Power Windows" is one of my favorite Rush albums! From Power Windows, here are the lyrics to: "Grand Designs", "Marathon", "Middletown Dreams" and "Mystic Rhythms"...
From "Grace Under Pressure", the song "Between The Wheels" really speaks to me. And, "Red Sector A" is a classic favorite! "Do I hope, or do I fear..."
Here's the song I got one of my nicknames from... "The Analog Kid" from the album "Signals"... From the same album, "Subdivisions" speaks volumes... And, "The Weapon" is such a great song!
After listening to "Different Stages" a few times, I have been going through some of the older CDs... "Moving Pictures" remains a favorite CD of mine, especially with songs like "YYZ" (the midi playing on this page), "Limelight" and "The Camera Eye". The lyrics say so much...
"Free Will", from "Permanent Waves", is another awesome Rush song. Also, "Natural Science" is awesome! It's probably my favorite Rush song...at the moment!

Another of my favorites is "Different Strings". I just love that song, and it is one of the few not written by Neil! Geddy wrote that one!
"Hemispheres" is a great album, and "The Trees" and "Circumstances" are awesome songs!
From "A Farewell To Kings", here is "Xanadu", "Closer to the Heart" and "A Farewell to Kings".
"2112" is the album that hooked me. The SONG 2112 is the first one I ever heard. It is still one of my favorite songs. It still gives me goose bumps...that is just 20 minutes and 34 seconds of HAPPY right there... I also love "Something For Nothing", "The Twilight Zone" and a song written by Alex, "Lessons". Sweet memories...
"Caress of Steel" is one of those that had to grow on me. Though, it does hold one of my very favorite songs, "Lakeside Park". I spent a couple days at a B&B right at Lakeside Park in 2007, and I can't begin to tell you how awesome that was! Another great song on this one is "The Fountain of Lamneth". Almost 20 minutes long, it is so cool! Especially the section with Panacea...
"Fly By Night", the second album Rush released, is the first one with Neil Peart in the studio. There are some great songs on this one, including "By-Tor and the Snowdog", "Fly By Night" and "Making Memories".
"RUSH", the first album, is a good, solid first album! With original drummer, John Rutsey (R.I.P. John...), there are some good songs here. Everyone can relate to "Working Man", can't they? And, you have to love "In The Mood", which Geddy wrote. And, "Finding My Way" is SUCH a cool song! Yeah, oh yeah!
---
Here are the lyrics to Alex Lifeson's solo CD, "Victor"... Alex really strayed from the 'normal' Rush sound; some of the lyrics are very dark! Then, Big Al shows up in "Shut Up Shuttin' Up"...SUCH a goofball!
Here are the lyrics to Geddy Lee's solo CD, "My Favorite Headache". Two of my favorite songs on this one are "Still" and "Slipping"... MFH starts the CD off with some MAJORLY KILLER bass rips! Ged shows us why he is the best bass player out there!

---
This page was last updated on 28SEP08. Please let me know if there is anything you'd like to see here... Thanks!

Click the star to go back to my home page...